Our "Measurements" page has been given quite a face lift.
First of all, each parameter now sports its own distinctive color to help readability and identification.
Chart have been tuned as well. The upper / lower values are now not as thick and prominent, and the parameter value line color corresponds to the color of that parameter elsewhere on the page.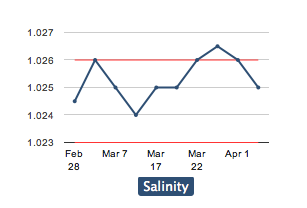 Some users prefer a more visual approach to their parameters, so now we have a new page that can be accessed by clicking on Charts button.

The new page is all about charts. You can gage your aquarium status at a glance, yet it can still be used to input any parameter that you'd like.